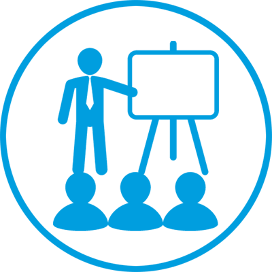 Training
We are one of the few companies in USA that provides not only classroom based but also e-training.
How are we different?
Prelytic provides as well as facilitates training on the latest technologies and specialized knowlege areas in the IT and Medical fields. We have trained all levels of professionals from new college grads to senior consultants. If you're looking for a career change, your search stops at prelytic.
We are one of the few companies in USA that provides not only classroom based but also e-training platform that allows Trainer,Tutor and students, Trainees to find the best fit Trainer for their needs, find reviews, setup training cost/Rate, setup one-on-one session online with seamless enrollment and payment channels all at one place.
We have affiliation with best Technology Training institutions and facilitate Audio/Video interactive/ recorded Webinars remote learning bringing training cost down for aspired Students and professionals to learn on new technologies on job including classroom training. The strength of the class used to be small for special attention, sometimes it would be one-on-one.
Prelytic's focuses Remote as well as class room training is to develop and help participants benefited from Competency-based quality program Up to date with latest technology Focusing Career development Training on Interpersonal Skills Resume writing Interview Tips Personality Development.
Our IT and Medical consultants possess a wide range of expertise - application developers, database specialists, software engineers, project managers, enterprise software implementation experts. Medical/pharmaceutical - /Billing/Coder/Assistants, Nurse practitioners, X-Ray, Technical Lab Assistants, Claims processors, Medical Transcription specialists, Administrative assistants, Controllers and Supervisors.
Prelytic encourage our associates to constantly update and improve their technical and soft skills to align to eco-system's needs where they are placed in.